Dr. Eng. Zuhdi Salhab, Palestine Polytechnic University (PPU),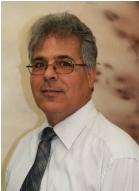 Dr. Salhab was borne  in Hebron, Palestine 1961,He is an Associate Professor in Mechanical Engineering (Internal Combustion Engines). PhD degree was received from Technical University of Liberec, Czech Republic 2001 in Alternative Fuels. Since 1990 he worked    in the College of Engineering at (PPU) as a lecturer and researcher in the field of  mechanical engineering and renewable energy.
From 2012- to present: Dean of Applied Professions College, PPU. 
2004-2006, 2008-2010: Chairman of Mechanical Engineering Department at College of Engineering, PPU.
From  March 2011- to present; Deputy Director of Renewable Energy & Environment Research Unit (REERU), PPU.
Member of editorial board and reviewer of many international journals and conferences.
Member of scientific and organizing (steering) committees and reviewer of national and international conferences.
He has many publications in international journals and conferences related to his study field and interests.
Taught many courses related to the mechanical engineering, air pollution, and vehicle emissions.
Supervising of various graduate projects related to alternative fuels (LPG & hydrogen), renewable energy (especially hydrogen fueled engine, electrical car, and solar car), and others.
His research interests: Traffic induced pollution, their control and pollution,
renewable energy, and alternative fuels and their impact on engine performance and environment.
Chairperson of the "4th International Conference on Energy and Environment Protection in Sustainable Development", (April 2016)- Hebron, Palestine.